Neigetsu and Tirza collaborated on workshops in Israel and Japan and they, along with one of Tirza's students, Alona, described their experiences.
Why don't you write "One Hundred Character Poem" ?
Five years have passed since I completed "One hundred Character Poem" and three years since Rona Conti introduced it on Beyond Calligraphy when I held my small solo-exhibition on this poem in Tokyo.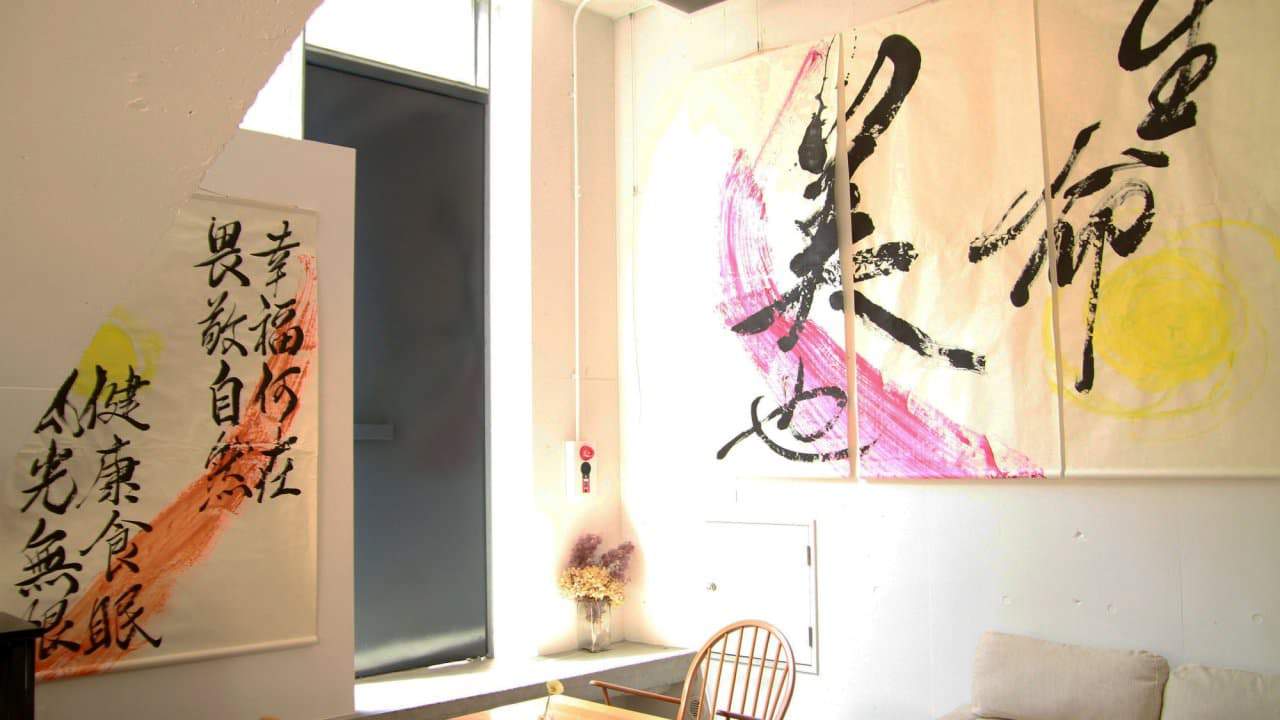 When Rona wrote about this poem on the website, I was really pleased and excited to find many people learning calligraphy in foreign countries gave me their heartfelt comments after reading the whole poem. One person said "This work is so ethereal and breathtaking", and the other said "Very creative approach to the Thousand Word Classic (The Thousand Character Poem Classic)".
●To read the One Hundred Character Poem.
Tirza Paytan Sela is a calligraphy teacher at Japan Art Center in Tel Aviv, Israel. She found the poem on Beyond Calligraphy, and made a contact to me in order to use the poem as a textbook for her students. In her e-mail to me, she expressed about the poem like this, "I am also familiar with the Chinese 1000 Classics but it is very difficult for my students to practice. I like your text, it is very optimistic and beautiful." That was a wonderful start of our meaningful relationship.
After I sent the textbooks to her, Tirza held a workshop of the poem with her students in Tel Aviv in June 2016. They wrote the poem after doing yoga in the desert, not only in block style but also in other favorite styles like cursive script. The photos of the workshop amazed me so much!
Finally, in May 2018, we had an impressive meeting in Tokyo. Tirza and her students came to my town after the long journey of Japanese calligraphy in Kyoto and Nara, just to write the poem with me and my students. After my writing performance with music, we, the mixed team of Japan and Israel of 25 members, did the writing relay by 4 letters each. One child wrote her word in script style, another lady wrote it in both Chinese and Hebrew characters, and the other man wrote it with his left hand dynamically. It was a really creative and wonderful time. After finishing all of it, we were covered with the warm, blessing air by sharing the common feeling of "Life is beautiful".

Actually, I prepared "One Hundred Characters Poem in five script type" for this workshop. Through this workshop, I believed again that this poem could be a very good opportunity to learn Japanese calligraphy by feeling the Eastern cultures and the meaning of human life. If there would be another group or someone who wish to write this poem, I would be so happy and open to share this textbook. Let's imagine the wonderful world connecting one by one with the satisfied mind of this poem that is about our beautiful life.